I'm vaguely hoping that this website will be a place I can amalgamate my personal and academic lives, and demonstrate a rounded view of who I am – not just a dry, academic one nor a ridiculous, idiot one. While language is my life's work, very best friend, etc. I have thoughts, feelings, opinions and enthusiasms outside linguistics, some of which I like to share and write about. So here they are!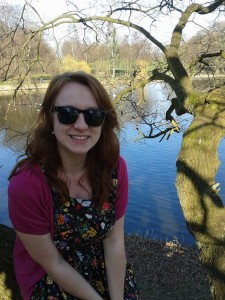 In an attempt to bring some structure to what may otherwise be a rambling mess, here's a summation of my non-academic self in true, Buzzfeed style. (I wonder how quickly this is going to date.)
10 things you didn't know about Hannah Leach until now probably
1. Probably the most immediately noticeable thing about me is my fashion sense. Or, more accurately, lack thereof. I enjoy bright lipstick, clashing patterns, childlike styles and every colour it is possible to wear at once. I wear a LOT of yellow, am particularly fond of dresses with pockets and loudly coloured tights, and own not one, but two polka-dotted backpacks. That pretty much sums it up.
2. I'm a feminist, and I care a lot about it. Not quite the space to talk about it here, but questions are always welcome (h@hannahleach.co.uk). Important point: I am very much always learning about feminism and other social justice issues (race, ability, gender and others) and feel it's important that I'm corrected about stuff by people who know more than me. I try to shut up and listen when it's needed.
3. I watch a lot of television. I spent a good deal of my teenage years/early twenties bonding with people online about our favourite shows and actors, and – while it takes a bit of a back seat while the work piles up – I really love a good TV show. Solid dramas (The Good Wife, Orange is the New Black, Orphan Black), sitcoms (Parks and Recreation, Brooklyn Nine Nine, The Mindy Project), British comedies (The Thick of It, Spaced, Green Wing, Black Books), sci-fi (Doctor Who, Star Trek: The Next Generation) and anything else that makes me happy (Only Connect, The Great British Bake-Off, Strictly Come Dancing, Horrible Histories, nature documentaries). I hope to grow up to be more like Leslie Knope.
4. Like basically everybody ever, my music tastes are varied and genre-spanning. But I bloody love pop music. I don't care about the judgement and the politics of it – a lot of pop music is fun and empowering and makes me want to dance like a loon. Taylor Swift is my queen, fight me on it. As John Darnielle of the Mountain Goats puts it, "One thing pop music is good for is remembering that somewhere inside us is the potential for unvanquishable joy."
5. I spent an embarrassing amount of my free time at zoos and other animal-based locations. Gimme a red panda and I'm happy for hours. Also currently impatiently waiting for the day I can get a cat called Torple.
6. I'm a trampolininst! Have been for about five years now, on and off. It's cracking fun.
7. I used to work for Boots on the No7 counter, and have always enjoyed styling people's hair, makeup and nails (and still do!). There's a separate Nail Art section here (because it's srs bzns), but I'm always on the lookout for willing participants/victims, other than myself. It's a simple thing that's great fun and a solid confidence boost. Winner!
8. My hobbies include: playing board games (specifically Bananagrams and Articulate); making cards, trinkets and lovely things for friends and family; doing jigsaw puzzles; playing video games (badly); playing the bass (badly); singing a bit (badly); visiting museums, castles and other lovely places, and walking when I can; yoga; and – recently – making airfix models!
9. I enjoy a good fiction book now and again, but I get more of a kick out of non-fiction reading in my spare time. Historical and political books, as well as witty memoirs, are particular favourites, as well as (on the fiction side) sci-fi and fantasy and any book that makes me laugh aloud.
10. I really try to keep a high level of enthusiasm in my life, and try to eschew cynicism and liking things ~ironically, because it drives me batty. This about sums it up:
"I began to realise how important it was to be an enthusiast in life. He taught me that if you are interested in something, no matter what it is, go at it full speed ahead. Embrace it with both arms, hug it, love it and above all become passionate about it. Lukewarm is no good. Hot is no good, either. White hot and passionate is the only thing to be."  — Roald Dahl, My Uncle Oswald